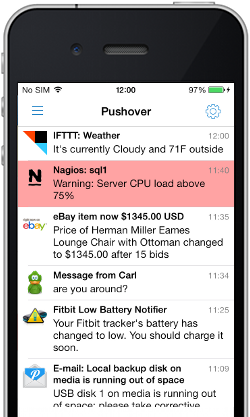 Pushover for iOS (iPhone, iPod Touch, and iPad)
Our iOS client uses Apple's secure push notification service for instant delivery of Pushover messages. Supports all newer iPhone, iPod Touch, and iPad devices running iOS 11 or higher.
Pushover for iOS takes advantage of iOS's background updates when you receive notifications, making your messages arrive faster and ready as soon as you open the application. Pushover now includes notification actions to open URLs and acknowledge messages right from the notification center.
For Apple Watch users, Pushover includes an Apple Watch app to view and acknowledge notifications on the watch, as well as scroll through past messages, in addition to Watch face complications to show data sent through our Glances API.
Available now in the App Store for free with a 7-day trial!